Enjoy the best
services with SUITEe
You have booked a room at an accomodation offering SUITEe services? Congratulations!
Scroll down to learn more about the next steps using the SUITEe app and you are going to experience all the advantages of a digital and smart journey.

Have a nice stay!
Register and validate your ID
Check-In comfortably through the app before you arrive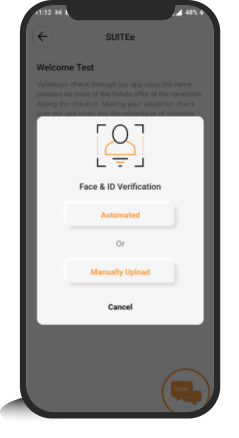 Please make sure you check the earliest check-in time that the hotel offers.
Before that hour you won't be able to access your room.
Arriving late at night is not a problem
When you have arrived, just open the app, tap the Check-In button on your home screen and confirm that you are the property.
Enter the property and access you room
Once you have successfully checked in, your home screen would change and you can see your room number.
As well as buttons so you can open the doors on your way. Just tap the button on your screen when you stand next to the corresponding entrance.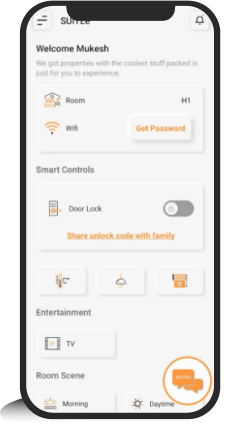 Enter the room and control the room amenities in your preferred way – with one click through the app or as usual through the manual switches.
Depending on the property you may be able to turn the lights on and off, regulate the temperature, open and close the blinds, control the TV and much more.
Check-out time? Instead of going to the reception with your luggage, just close the door, tap the check-out button in your app and leave as comfortably as you have arrived.
Before you check-out, you will be asked to confirm that you have left the room in appropriate condition, closed all the doors and windows and water taps. Please also make sure you haven't left any belongings inside.
What else does the SUITEe app offer you
Discover the seamless guest Experience with SUITEe
Complete digital experience – from booking, check-in, and hotel access
to the control of smart-home technologies and much more
Frequently Asked Question
Yes, we recommend downloading the app and registering before your arrival
to complete. So you can enjoy your stay easily and comfortably.
Yes, you can still use the SUITEe app. Simply log in with the same email address and details. Your room will automatically appear in the app.
The SUITEe app and its services are free for guests. In addition, the
Price of your stay according to the hotel's specifications. We do not charge any additional fees.
Your safety is our top priority! All devices are certified and ours
Software solutions comply with the requirements of the GDPR. The communication between devices is secure and encrypted to prevent hacker attacks.
We ensure that authorized guests always have access to their accommodations. If you have any difficulties entering your room, please contact us simply call your hotel's emergency number.
Ready to upgrade your hotel?
Send us a message or email us at
contact@suite-e.com